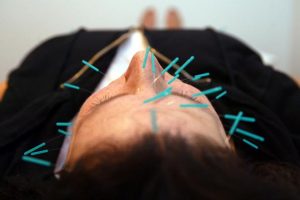 Acupuncture, an ancient Chinese therapy, has been around for more than 3,000 years — but neurologists have just found out it can improve symptoms of dementia.
Researchers have had a sneaking suspicion that combined acupuncture can effectively treat symptoms of mild cognitive impairment (MCI), a precursor to dementia. In fact, acupuncture has been used to manage the disease for a while now. But the neurologists' new study analysis is the first to offer a comprehensive look at the outcomes of both Western and Chinese studies. Some studies compared acupuncture directly to nimodipine — a calcium blocker that treats the progranulin gene mutation associated with dementia; while others measured the effect of acupuncture when combined with nimodipine.
Results showed that acupuncture had a significant effect on patients' mini-mental state examination scores compared to those just taking nimodipine. "Overall, our meta-analysis suggests that acupuncture was a useful therapy in improving cognitive function for patients with AMCI," the neurologists wrote. "It also suggested that acupuncture was effective when used as an adjunctive treatment to nimodipine for [MCI].
Of course, the study has several limitations. On the one hand, it's a small population size across all the studies included — less than 600 people. Three studies also detailed adverse events, including slow bleeding at the acupuncture needle sites and fainting during treatment. There were also patients taking nimodipine that experienced gastrointestinal problems and mild headache.
Read more at http://www.medicaldaily.com/acupuncture-dementia-alternative-therapy-may-help-improve-precusor-symptoms-393946